It really seems like we're cresting the wave of the busiest time of year in the QMJHL scouting realm. With the quadrennial Canada Winter Games in the rearview, the complex, new and improved Quebec U18 playoffs well underway, as well as Atlantic U18 hockey having concluded with a Pictou victory over the Moncton Flyers, we're nearly there. 
We anticipate having at least one additional update to our rankings after the conclusion of the QMJHL Cup, which takes place at the end of November, as well as, potentially, some minor tweaks prior to the draft. Last season the QMJHL cup was a pivotal event for certain players - namely Bill Zonnon, Eric Halliday and Felix Lacerte, two of which have been among the most prominent as rookies in the QMJHL this year. Needless to say, it's not a tournament to write-off as a year end gimmick. 
A couple of very important changes were made to our rankings in the month of March, as well as dozens of other, less noteworthy ones. 
First and foremost, the addition of Anthony Allain-Samake at 11th overall. Samake is a superbly skating defenseman who plays for the Ottawa Senators U18 club in the HEO circuit. He's a native of the Gatineau region, but obtained a release from the region last summer after being subject to racism and bullying. As my Ontario colleague, Jordan Malette will attest, he's been one of the most improved and relied upon players for the Senators this season. He's a defensive tactician, first, but I'm convinced that he has some untapped offensive potential. There are few defensemen in the rest of the class who offer a comparable degree of efficient and polished backwards skating, as well as precise and forward-looking breakout pass. He moves well on his own, but certainly prefers a more conservative approach. His debut at 11th will undoubtedly be a controversial one, in part due to how starkly he's flown under the radar this season while playing outside the region. His participation in the QMJHL Cup at the end of the month threatens to unveil his potential to casual observers, and could make it less likely that he slips to the 4th round as projected by the CSR.
A bit higher up in the rankings you may notice another "new" name. New to the top-10, that is. Lac St. Louis' Mateo Nobert has emerged as one of the most well-rounded centerman in this class. His offense has taken off of late, tied to an impressive degree of puck handling skill and a natural awareness and tendency to find open ice in the offensive zone, and that's only the tip of the iceberg. Nobert, it could be argued, is also one of, if not the most defensively detailed centermen to offer up a high level of offensive ability. While I think there's some work for him to do in terms of tightening up his stride and agility to a QMJHL-ready level, his ceiling as a top line center at some point in the QMJHL seems to have a strong likelihood based on how much he can be relied upon in all situations. 
As always, it's important to make note of some key externalities that are not compensated for in our rankings. Continuing to hold down the top spot in spite of a recent suspected shoulder injury at USA Hockey Nationals, Zachary Morin remains tendered to the USHL's Youngstown Phantoms. While there's still a chance that some prominent team with multiple early pick (perhaps Blainville Boisbriand), takes him in the first round in the off-chance that they can lure him back, it's highly unlikely that he'll be a consideration for first overall. 
Likewise, our 3rd ranked player, Liam Kilfoil who put on an excellent performance at the Canada Winter Games tendered to the Dubuque Fighting Saints during the month of March. His commitment to the USHL continues to signal a disappointing trend for the QMJHL, and also means that he's unlikely to be considered at the top of the draft. Similarly to Morin, there could be another team with multiple first round picks who chooses to select Kilfoil, hedging their bets early with the assurance of receiving a compensation pick in 2024 if he were to defect. 
BREAKING: 5 ⭐️ 2007 Liam Kilfoil has signed a tender with the USHL's @fightingsaints. Kilfoil is the 21st ranked 2007 in North America and the #3 ranked skater for the 2023 QMJHL Draft. He joins our #1 skater for the Q draft, Zach Morin, as players who have signed a USHL tender. https://t.co/DyRGlKqHTP

— Puck Preps (@PuckPreps) March 6, 2023
Beyond the top-20, there are a few more key points to highlight…
The list has expanded from 100 players to 120 players, allowing us to include another of our 20 favourite players. This new group of additions has a strong cohort from the Maritimes, including 3 players from PEI, 4 players from Nova Scotia, and 5 players from New Brunswick. 
A recent check in with the Amos Forestiers warranted the boost of standout 2007-forward Sheldon Rankin from 46th to 27th. Rankin has been an active mover throughout the year, reflective of our observations that there's been some inconsistency in his game. Nonetheless, his ability to take control of a game in a few split seconds with his off puck offensive awareness, attention to positional details and willingness to take and sustain a hit with strength, in order to recover a puck in the offensive zone. He's always available as an outlet to the breakout and when controlling the puck himself, he doesn't rush a bad pass if he doesn't have a good one available. 
Of similar draft stock to Rankin is College Notre-Dame forward Elliot Dube. Dube's seen a resurgence of his draft stock in our books as a result of some recalibration in this area of the rankings. Earlier in the year we overcorrected, dropping Dube's stock based on a couple viewings where it seemed that he was rushing the puck off of his stick. In reflection he appears to be at a similar level to most of his peers in this respect, and offers some elements that many others do not. Dube continues to be a player who is near impossible to protect the puck from. He's tenacious on the forecheck and has an intuitive awareness of where and how to apply pressure so that he can efficiently strip possession from his opponents.
In reference to the movement of Rankin & Dube, here's a quick graphic to illustrate their degree of movement on the season, relative to a few "control" points of Olivier Duhamel and Noah Collette.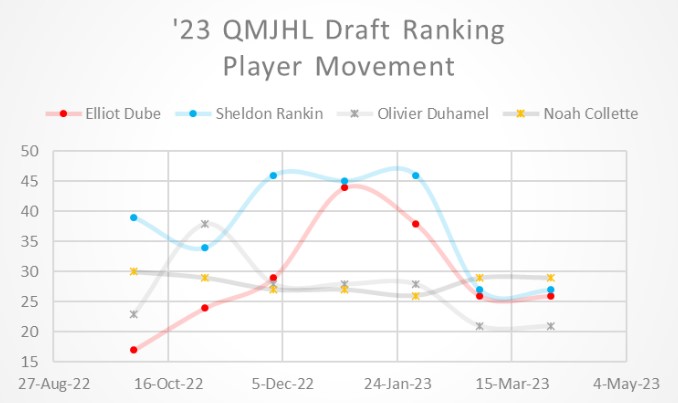 For the full rankings, go here.