There is obviously a lot of talent on the U.S. U17 National Team Development Program roster, but two players in particular are making some noise.
The first is forward Gabe Perreault, who is continuing a tradition of hockey excellence as his brother Jacob suits up for the AHL's San Diego Gulls and his father Yanic played for six NHL teams during his career.
With that tradition, it's no surprise that the 16-year-old Perreault has been putting up big numbers since joining the NTDP. He had a monster year with the U-17 team with 50 points in 51 games and 27 points in 40 games for NTDP Juniors. So far for the U18 team, he has three points in seven games.
For Perreault, it was an adjustment joining the USNTDP, but he's adapted well to the changes.
"I think at first, it was a big change for all of us," he said. "It's just bigger, stronger guys and the teams are a little bit faster. But I think as a team and everything, we got a lot better over the year and it helped us just bond and everything like that."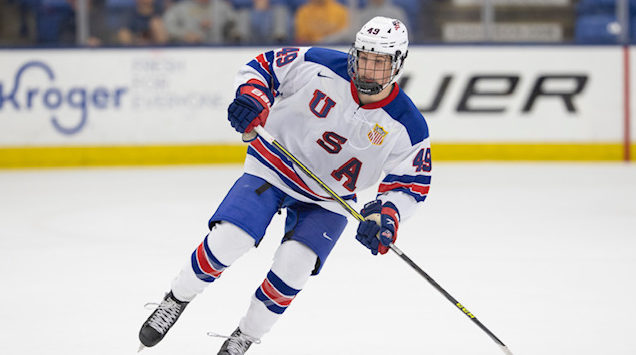 Perreault also said he's been working on getting stronger because he "wasn't the biggest guy." So, he put on some weight and said that the program has helped as well.
"I think it was definitely the right spot for me just with all the off-ice workouts and how they do it here, it was the right spot for me and it's helped me a bunch," he said.
He is being recruited by some colleges but said that he hasn't taken any visits and plans on doing so over the summer.
"There's been a couple, but I'm still early in the process," he said. "So, I haven't really narrowed it down."
Perreault was also a draft pick of the Sarnia Sting, where his brother Jacob played junior hockey, so that remains a realistic option.
Another person that's being closely watched is Perreault's teammate Gracyn Sawchyn. A 17-year-old center, Sawchyn is an Edmonton native who moved to Minnesota as a kid and quickly became a star at Shattuck St. Mary's, pumping in 83 points for the 14U team and 60 for the 16U squad. Now, he's with the NTDP team and has stayed hot. He's racked up 33 points in 52 games for the U17 team and 22 points in 35 games for the NTDP Juniors.
Moving to the U.S. was a bit of a challenge for Sawchyn, but he's definitely made the most of his time in the US.
"It was a big change, a big change for my family especially, but I think we all liked it," he said. "Hockey was pretty much the same, but I guess moving to a different country with different people, it's a little different."
Like Perreault, Sawchyn said he's been focusing on getting stronger and has spent a lot of time in the gym. Also like his teammate, he's being recruited, but still not sure of his plans for the future.
"I haven't narrowed it down, but I'm definitely looking at college," he said.
Sawchyn was the first overall pick by the Red Deer Rebels at the 2020 WHL US Prospects Draft and has since been traded to the Seattle Thunderbirds, which has added an interesting wrinkle to his recruitment.
Whoever does add Sawchyn to their team is adding a multi-tool player who can play on the top line and enjoys the center spot.
"I can play right wing, left wing, center, but I like center," he said. "I like the responsibility of having a little bit of control over the line and control in the faceoff dot."
If that school were to land both players, it'd be getting a tandem that already has a connection and plays well together.
"Over the last month, I got to play with Gracyn and I think we had a pretty good bond off the ice, which helped us bring it onto the ice," Perreault said. "I think we played really well together."
They might not be sure where they'll be in the future, but if they excel at the level they are now, both Perreault and Sawchyn could fill big pieces of their next roster.